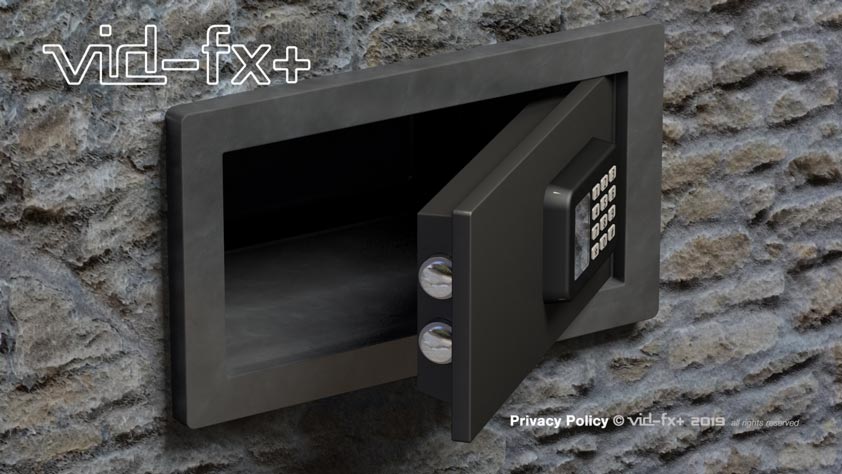 Summary privacy policy for Vid-FX+ (Video Effects plus) Advertising Website  –  https://vidfxplus.com. and https://www.vidfxplus.com
Google analytics for this site is disabled.
What personal data we collect
Vid-FX+ does not collect identifiable personal information from our website(s).
Comments
Vid-FX+ does not use customer relations management systems, nor do we operate general telemarketing or email marketing. Therefore we have no need to collect hold or process personal information from visitors to this site. Any other incidental data collected about visitors to this site is as an anonymized data stream for security, analytics and SEO purposes enabling us to supply a better service to our visitors.
Email and telephone contacts made from or on behalf of Vid-FX+ are made utilising publically available information. Such information is drawn from a website social media presence or other material that you have shared. Such as letters or business cards or marketing material you have made available to us. With the exception of the latter instances, this information is not retained or stored by Vid-FX+. Written and printed material is stored securely while needed commercially. All other material is securely destroyed.
Commercial customers clients suppliers contractors cast and crew
In these instances, we will be required by law and regulation to collect process store and share personal and commercial data with the relevant authorities. Full information on these will be supplied to the relevant participants specific to each contract/project. Suffice to say that while these requirements will vary as to the nature of each project we will endeavour to see that only the minimum personal data is retained any other data collected will be deleted as soon as its requirement has expired.
---
Note: Unsolicited Job Applications Résumés CV's etc. will not be read, processed or stored. They will be deleted locally and from the server or shredded immediately on opening.
---
Detailed privacy policy for Vid-FX+ Advertising 
---